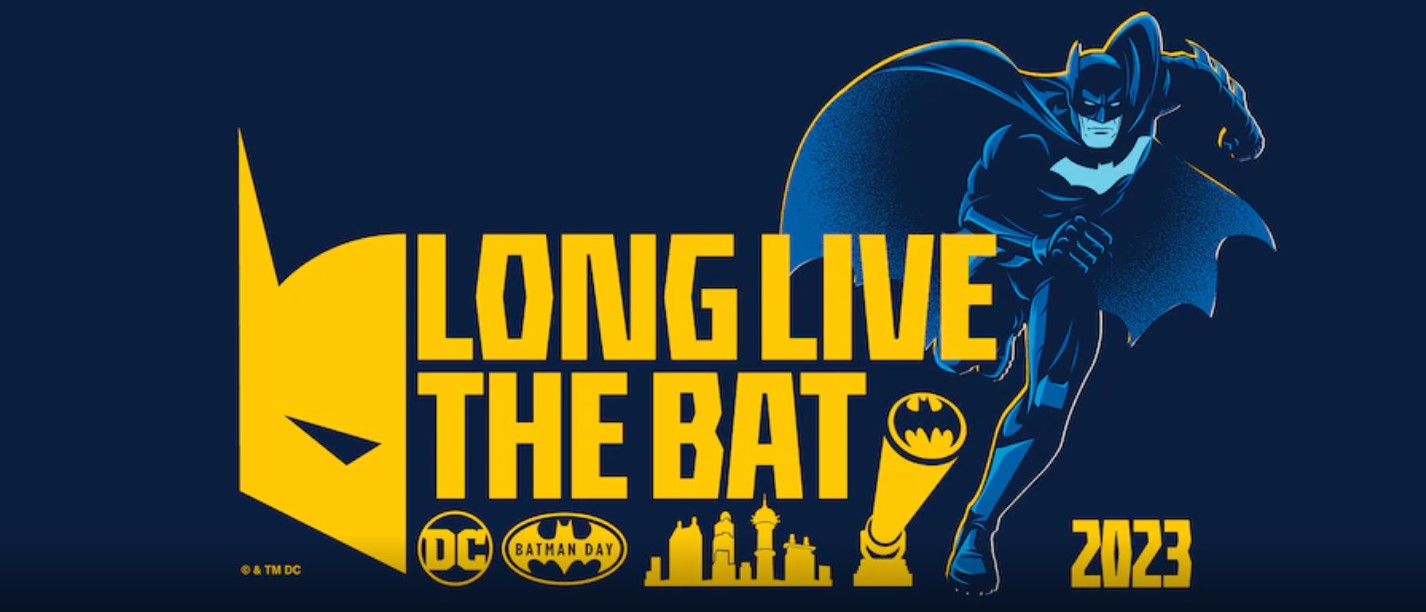 DC Comics has provided BOF with the full schedule for Batman Day 2023 and below you'll find a summary of what's planned for this year's big Bat-event on September 16th! – Bill "Jett" Ramey
COMICS
The free comic books available in comic shops include Batman/Catwoman: The Gotham War: Prelude Batman Day Special Edition #1, Batman & The Joker: The Deadly Duo #1 Batman Day Special Edition, and Batman #608: Batman Day Special Edition. Fans will also be able to purchase both the Batman '89 Hardcover Collection and Batman: Gargoyle of Gotham #1.
Also, DC Universe Infinite will offer a "curated list of great Batman team-up stories for subscribers" in honor of Batman Day. The digital comic subscription service will also offer a "selection of iconic Batman stories to read for free (in front of the paywall)."
BATMAN ON FILM/TV
Christopher Nolan's THE DARK KNIGHT TRILOGY is returning to select movie theaters across North America.
Additionally, Max is highlighting its extensive collection of Batman films and television shows available for streaming: THE BATMAN, THE DARK KNIGHT TRILOGY, BATMAN '89, BATMAN RETURNS, BATMAN v SUPERMAN, BATMAN: THE ANIMATED SERIES, BATMAN: THE DOOM THAT CAME TO GOTHAM, BATMAN: HUSH, BATMAN: MASK OF THE PHANTASM, THE LEGO BATMAN MOVIE, and more.
New episodes of the preschool animated series Batwheels will begin airing on Cartoon Network starting Monday, September 11. One episode from this new batch even features a special appearance by late Batman '66 actor Adam West, and will air on Friday, September 15. All the new episodes will then air again on September 16th for Batman Day.
The Adult Swim block on Cartoon Network is airing all four of the Tim Burton/Joel Schumacher Batman films. TNT will host a Batman movie marathon on September 16th that features THE DARK KNIGHT TRILOGY, BATMAN v SUPERMAN, and JUSTICE LEAGUE.
Also on September 16th, TBS will host a Batman Day marathon of The Big Bang Theory, featuring Batman-themed episodes of the sitcom. Even Food Network is getting in on the action with a superhero-themed episode of Outrageous Pumpkins on September 15.
OTHER BATMAN DAY EVENTS
Various other Batman Day promotions are planned for the entire month of September. These include new original programming on the DC Kids YouTube Channel, the first information regarding a live concert performance of Danny Elfman's 1989 Batman score, new collectibles from various toy companies, and various unique celebrations the world over.
For more info, check out the Batman Day 2023 hub at DC.com/BatmanDay.