We have now had almost a week to watch (over and over) the deleted scene from THE BATMAN featuring Batman (Robert Pattinson) and The Joker (Barry Keoghan) at Arkham, and it appears that the main topic of conversation is the version of The Joker's appearance.
With the frozen smile, a very bad skin condition, and patches of green hair on his head, THE BATMAN UNIVERSE's Joker is very different from previous live-action incarnations…yet, he's still very much "The Joker."  Here is a quote from THE BATMAN's director, Matt Reeves, discussing the "look" of his Joker (via VARIETY)…
He has a congenital disease where he can't stop smiling, it's horrific.  He had this smile that people stared at that was grotesque and terrifying. Even as a child, people looked at him with horror, and his response was to say, 'Okay, so a joke was played on me.'
He also said in the interview that this Joker's look doesn't involve falling into a vat of acid or a cut smile of an unknown origin…
It's not about some version where he falls into a vat of chemicals and his face is distorted, or what [Christopher] Nolan did, where there's some mystery to how he got these scars carved into his face.
Via IGN, Reeves said that he wanted this version of The Joker to be "distinctive and new" aesthetically, but he also was inspired by one of Bob Kane, Bill Finger, and Jerry Robinson's visual influences for the character when created in 1940: Conrad Veidt in the 1928 silent film THE MAN WHO LAUGHS. In the film, Veidt's character of Gwynplaine also sports a frozen smile, albeit carved into his mouth as a child by a deranged surgeon.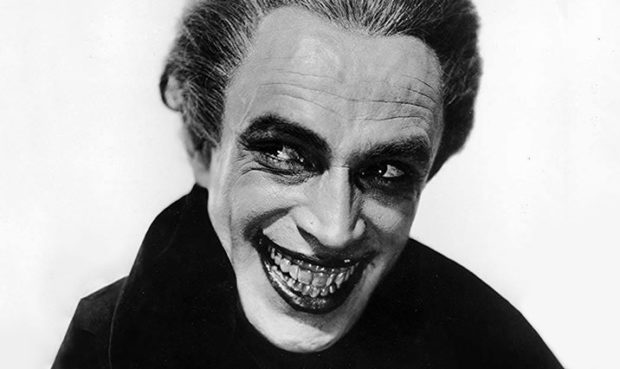 Reeves also notes that The Joker and Batman have a history — "It's almost our one year anniversary," The Joker tells Batman in the deleted scene — and that Keoghan's character is not the full-on Joker…yet.  "So everybody [in THE BATMAN UNIVERSE] in their infancy," said Reeves. "So in the comics, these characters often declare their alter egos in response to the fact that there's a Batman out there. And so here, we have a Joker who's not yet The Joker."
So, outside of why he has a permanent smile, what caused The Joker to look the way he does?
The answer is…IT DOESN'T MATTER.
The Joker is better when his origin/backstory is a complete mystery.  And I certainly don't think it's important nor is it required for Matt Reeves to provide those specific details.  The Joker just, you know, "IS."
It'll be interesting to see where "Not Yet The Joker" shows up next.  Reeves has said that it may not necessarily show up in the sequel to THE BATMAN, but I do suspect he'll play a big role in one of the future films.  And heck, he might even show up in the upcoming ARKHAM series on HBO Max.
For BOF's initial reaction to the deleted scene, check out the BOF Social Hour #59 or via the player below. – Bill "Jett" Ramey