As someone who fancies himself as a Batman historian — an amateur Batman historian, let me make that clear — I'm always wanting and willing to learn more about The Dark Knight's history.
When that happens, I always turn to the definitive Batman historian and expert — and my friend — the great Michael Uslan!
In this case, I found myself in a bit of a debate on who was responsible for returning Batman to his "dark and serious" roots in the comics in the late 1960s.  So I asked Mr. U and below you'll find his latest Batman History Lesson" for BOF. – Bill "Jett" Ramey
---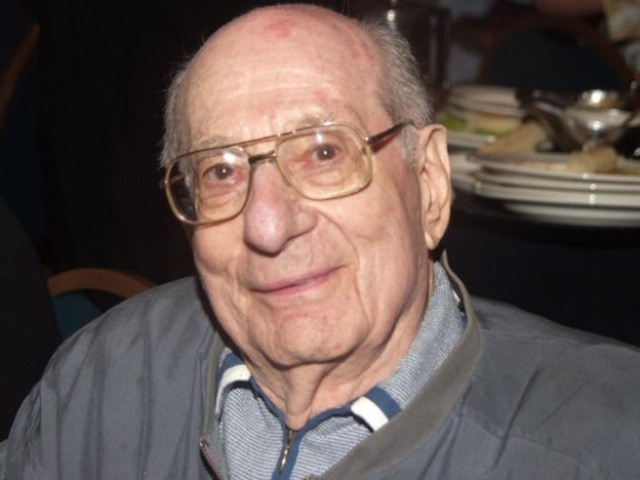 The return of Batman to "The Batman" and his dark roots was not an overnight event. In actuality, it was a surprisingly slow evolution.
Neal Adams' first cover, as I recall, was BATMAN #200. For purposes of this discussion, that cover is irrelevant. Around this time, editor Julie Schwartz and art Director/president Carmine Infantino started making the covers darker. This was not reflected in the interior "Bob Kane" art that was typically ghosted by Chic Stone, Joe Giella, and others.
In BATMAN #204 from August 1968, Irv Novick began drawing the covers and the interior art. Not only had Novick been one of the top war comics artists at DC, but he goes way back and was the artist/co-creator of The Shield for MLJ Comics before there was a Captain America. The primary Schwartz writer became cartoonist Frank Robbins. This was an evolutionary step in the creative process in this transitional era for Batman. Novick is the unsung hero of the re-emergence of the dark Batman. Also, note the logo changing back to a Golden Age/Silver Age Batman with issue #214. The cover of #215 would prove to be symbolic of what was about to take place. Everything was about to get blown up!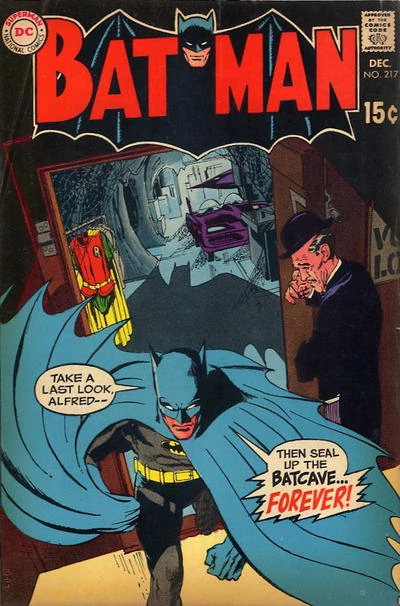 In BATMAN #217, we have the real beginning of a sea change in the history of Batman. Neal Adams sets the tone with his cover as the story Julius Schwartz instructs Frank Robbins to write has Robin going off to college, Batman going solo again, the closing of Wayne Manor, and the opening of Bruce Wayne's downtown condo. Another Neal cover on Batman 219 doesn't move the needle and neither really does the Frank Robbins/Irv Novick interior story.
The Batman logo changes again in #220, March 1970. It's a Carmine Infantino/Neal Adams cover and Robbins/Novick story. This is followed by another great tone-setting cover by Neal on #221 with another competent solo Batman tale by Robbins and Novick.
In BATMAN #224, editor Julius Schwartz chose a new writer as Denny O'Neil dipped his toe into the Batman water by scripting his first Batman story, illustrated by Novick and inker Dick Giordano, who also inked Neal Adams' cover.
BATMAN #227 is an important issue in the transition for two reasons: Neal's cover, a remake to or homage of the cover of DETECTIVE COMICS #31, sends the loudest, clearest message to date to fans that "The Batman" is back!
It is in this issue's story drawn by Irv Novick, that Denny hits his stride writing The Batman. And then…he disappears for a few issues as — I believe — Schwartz burns off his Frank Robbins/Irv Novick inventory so that the transition to the dark Batman fully occurs in June 1971's BATMAN #232, the first story in which Schwartz brings together as his new Batman team: Denny O'Neil and Neal Adams. And by doing that, the process introduces us to the greatest Batman villain created post-BATMAN TV show: Ras al Ghul…as well as his daughter, Talia.
And the comic book world — and The Batman — would never be the same again!
So to answer your question, Bill, Julius Schwartz was the architect of The Batman's "return to darkness" in the 1970s. Neal Adams' covers would set the new tone and then would artistically define The Batman for a new generation. And Julie's instincts to team up Denny and Neal were genius! It inspired Denny to create new characters like Ras and Talia and Man-Bat and gave this new creative team the vision and talent together to re-define Two-Face, Catwoman, and even The Joker by BATMAN #251.
But the real unsung hero who is never acknowledged as a key player in this transition is Irv Novick. Not only did he draw the critical story from BATMAN #217, but he also drew the legendary "Batman meets The Shadow" issues #253 and #259. And let's not forget, he was still drawing Batman and giving Neal breathers as of BATMAN #286. Actually, it was more than just giving Neal breathers. Irv Novick was actually the predominant interior artist of this Batman period; significantly more so than Neal. But Neal's fewer tales were also more memorable tales.
BATMAN #237 would give us Danny and Niel's immortal town, "Night of the Reaper" — my second favorite Batman story of all time. Then came "Christmas story, Denny and Neal's "Silent Night, Deadly Night."
So at the top of the food chain here is Julius Schwartz. Under Julie — on an equal level — are Denny O'Neil and Neal Adams. A rung below them is the unsung hero, Irv Novick. And Frank Robbins deserves an honorable mention. – Michael Uslan
---