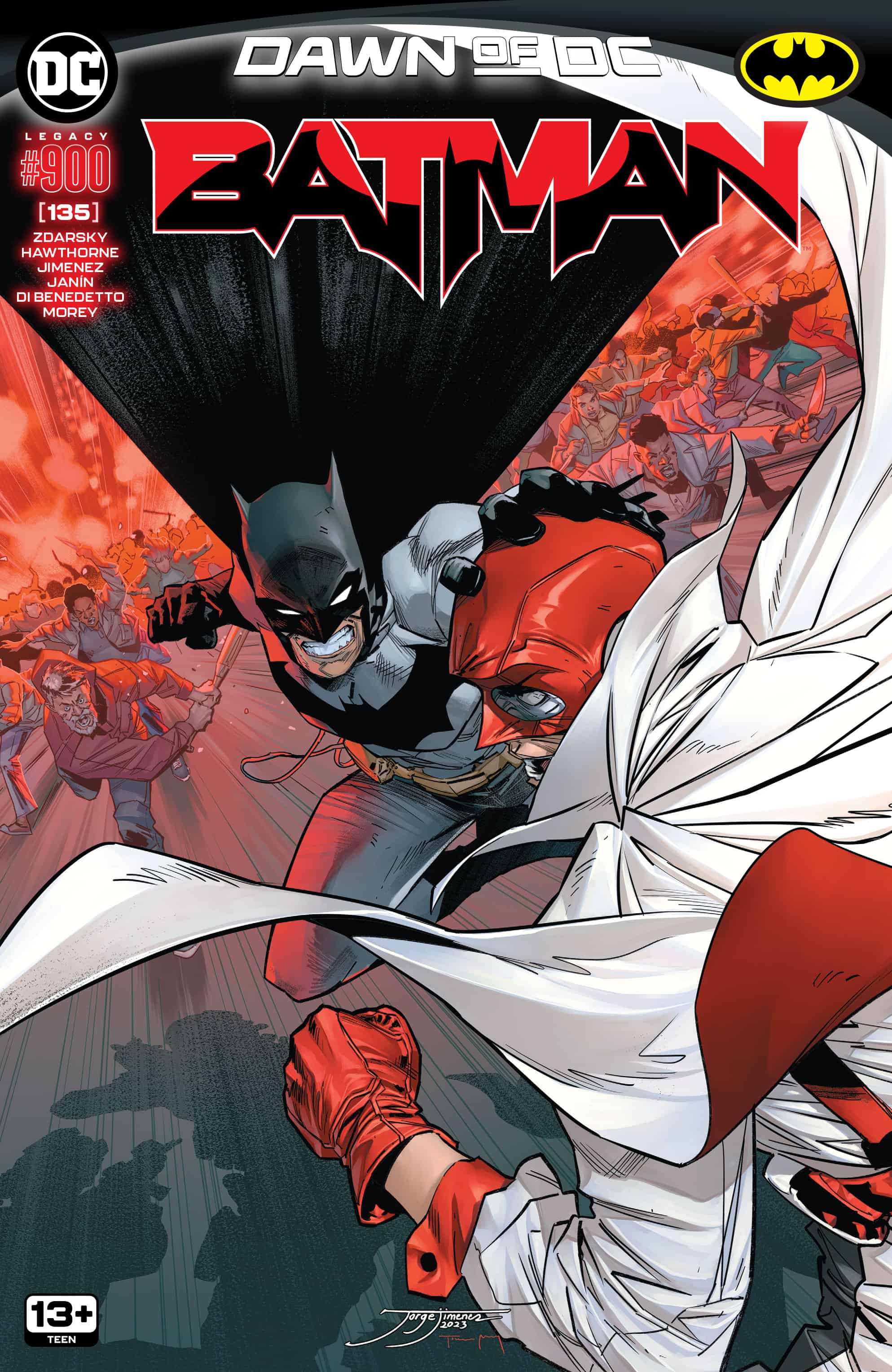 BATMAN #135 is notable for a few different reasons. First, it's the conclusion of writer Chip Zdarsky's second arc on the title, "The Bat-Man of Gotham." Second, it's technically (and being celebrated as) the 900th issue in the title's history. And lastly, there are many surprises hidden inside this extra-sized issue.
Many.
MANY.
Now, this is BOF so you know we have a no-spoiler policy here, chum. Therefore, I won't even attempt to be clever and creative with my wording to nod to the surprises in store. I can only recommend you read this issue as soon as possible before everyone gets nuts and posts screengrabs online.
The setup is the buildup to the big confrontation with Red Mask, who Batman believes is this universe's Joker. Zdarsky hasn't been gaslighting us, or Bruce, this whole time. This man really seems to be the Joker, just without the full conversion, which we see flashes of. The Dark Knight returns to form in his pursuit of the "Joker", which is where the story goes beyond the "street level" approach the previous issues have.
I do applaud Zdarsky for the creativity he's displayed throughout this story and this particular issue. Its strengths are in its unpredictability and devotion to the character of Batman/Bruce Wayne. He doesn't do the man an injustice but rather takes him to his core we all know is important to understand him.
There's a trio of artists working on this celebrated issue, and they do a seamless job working together. Mike Hawthorne continues his great work on this arc, having established his own kingdom, and coming up with a fresh setting that establishes him from others. Jorge Jimenez returns for some excellent pages that'll surely get you excited. And Mikel Janin brings an animated series of beautiful panels that also just pop. This is a great-looking issue.
But at the core, it's about Batman. He says on one page "…a world without Batman is still a world with monsters". That stands out to me. There'll always be a rogues gallery, whether in Arkham, the city of Gotham, or internationally. And wouldn't you rather have a Batman there to take them on?
Great issue.
GRADE: A