SYNOPSIS: Tick, tick, tick goes the clock as Gotham City prepares for another shocking murder at the hands of The Joker! The brutal and terrifying tale of The Joker and Batman's first meeting continues as Tom King and Mitch Gerads once again deliver a shocking, bloody blockbuster tale!
All-star creator Joëlle Jones (Catwoman, Wonder Girl) gives readers a Batman Black & White tale exploring Batman's scars, both literal and psychological, revisiting the Dark Knight's toughest fights and deepest wounds.
---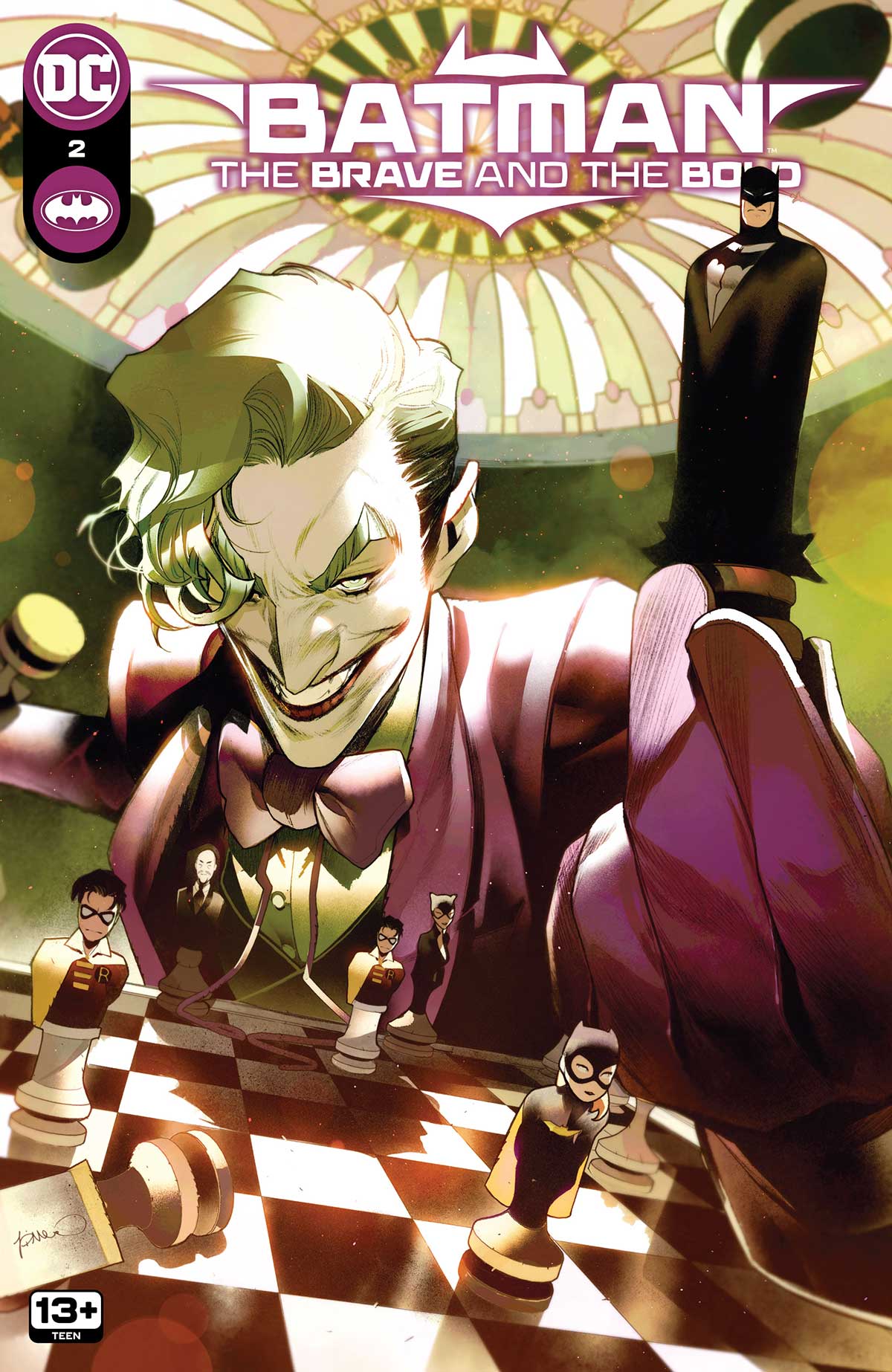 After such a startling first issue, you'd think I'd be prepared for what to expect in the next installment, but no.
Tom King continues to push the boundaries of horror elements further in his retelling of The Joker's debut in the original Batman #1. Continuing his murder spree, The Joker turns his sights on Wilde Manor, where inside Detective Gordon and a cadre of officers are protecting Joker's next announced victim. If you're familiar with the original story, well, it goes far worse for everyone in King's version.
Gerads really plays with the grid work in his art here, ratcheting up the tension until it explodes in a terrifying splash page. Pulling double duty on art and colors, there is a depth and dimension to the visuals that feel far more painterly than some of his past work. The cool blues of night really stood out to me and created an effective mood. There is a grit and grain, too, not just in the title cards telling morbid jokes, but in the images themselves, infusing an ethereal ambiance to the proceedings, like a nightmare skirting the edges of your mind, waiting for you to finally feel secure before it strikes. And strike it does…
King drives the narrative forward by having Bruce ring up Brute Nelson, baiting him like a worm on a hook to start a macho contest with The Joker on who is the alpha dog of Gotham. While I don't necessarily take umbrage with Batman using a gangster as bait to trap someone far worse, King's dialogue didn't quite ring true for the "billionaire playboy" side of Bruce Wayne. And maybe I'm reading it wrong and this is Bruce trying to perfect that brainless billionaire persona still because it does seem like something that "Bruce" would say, just not in that way. I just can't picture the Bruce Wayne of King's Batman run saying, "Dude!"
In between moments of violence, the topic of fathers comes up in two separate conversations Batman/Bruce has, definitely adding new layers to Gordon's history. It serves to emphasize why Gordon has to turn to The Batman and why Batman has to play the deadly game he does with another man's life.
I don't want to spoil Batman's confrontation with The Joker too much, but I loved how King portrayed it. This Batman who is very much at the tail end of his Year One has no idea that he can't play the "I am Vengeance" card with someone like The Joker. He is the "better class of criminal" that Heath Ledger spoke of in The Dark Knight.
Joëlle Jones provides this issue's Batman: Black & White contribution, titled "Scars". Back in the sanctuary of the cave, an injured Bruce begins to treat himself, leading to reflections of past wounds. The story may be simple, but the layouts are gorgeous. Her prior art has always had an inkiness to it that is well-suited for a backup like this and her time away from Gotham hasn't dulled her skills. I miss her art on Catwoman, but at least she assuages those feelings with a few panels of Selina Kyle in the midst of some epic past Batman battles
You'd think King would be done with Gotham, but this issue continues to prove he has lots of gas still left in the tank when it comes to the world. Coupled with Gerads doing some career-defining work, this is one Bat title fans cannot miss! – Javier E. Trujillo
GRADE: A-