What a great Bat-year…
FEBRUARY: The 3rd imposter Batman is revealed and Bat-Mite returns to Batman comic book continuity in BATMAN #672.
MARCH: In one of the few good BATMAN CONFIDENTIAL story arcs, a new version of The Wrath (basically, a villain who is an anti-Batman and originally debuted in 1984) shows up in Gotham beginning in issue #13.
JUNE: Grant Morrison's "Batman, R.I.P." begins in BATMAN #676. In this issue, Dr. Hurt's "Club of Villains" – Charlie Caligula, King Kraken, El Sombrero, Pierrot Lunaire, and Swagman – was introduced, as well as a modern take on the "Zur-En-Arrah Batman."
JULY: Arguably the greatest comic book/superhero movie ever – director Christopher Nolan's THE DARK KNIGHT – hits theaters on the 15th of this month. The filmed starred Christian Bale as Batman/Bruce Wayne, Gary Oldman as Commissioner Gordon, Aaron Eckhart as Harvey Dent, Maggie Gyllenhaal as Rachel Dawes, Morgan Freeman as Lucius Fox, and the late Heath Ledger (who has passed the previous January due to an accidental prescription drug overdose) as The Joker. Ledger's performance would earn him a posthumous Oscar for Best Supporting Actor.
THE DARK KNIGHT was the second film in Nolan's THE DARK KNIGHT TRILOGY which commenced in 2005 with BATMAN BEGINS and would end in 2012 with THE DARK KNIGHT RISES.
THE DARK KNIGHT took in over $1 billion worldwide and is the second highest-grossing comic book film to date.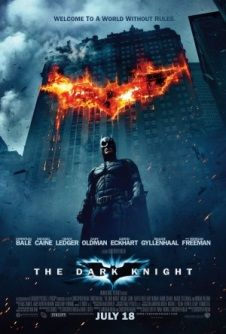 SEPTEMBER: Paul Dini's "Heart of Hush" storyline begins in DETECTIVE COMICS #846.
NOVEMBER: The animated Batman TV series, BATMAN: THE BRAVE AND THE BOLD, debuts on the Cartoon Network on the 14th of the month.
DECEMBER: The graphic novel JOKER by writer Brian Azzarello and artist Lee Bermejo reimagines The Joker and other Batman characters (including Harley Quinn) in a story told through the point of view of The Joker's henchman, Johnny Frost.
JETT REMEMBERS 
What can I say about Batman in 2008 other than it was all about THE DARK KNIGHT. Yeah, I read all the comics that were on this list (and others as well), but 2008 – in terms of Batman – was the year of THE DARK KNIGHT.
I never thought that there would be Bat-Mania the likes that came with BATMAN in 1989, but we got it again with TDK. The highlight for me was attending the TDK press event in Los Angeles and then going to the film's premiere in New York a week later.
Good times that I'll always appreciate and cherish.
Also, the viral campaign for this film shifted from The Joker, to Harvey Dent and getting him "elected" as Gotham's district attorney.
Comic book-wise, I was reading Grant Morrison's run on BATMAN. Yeah, the whole thing was nuts, but it was still pretty good. But it was Paul Dini's "Heart of Hush" storyline in DETECTIVE COMICS which I enjoyed the most. And JOKER graphic novel was damn good too!
What did you think of Batman in 2008? What are your memories? Post your thoughts in the comments section below! – Bill "Jett" Ramey