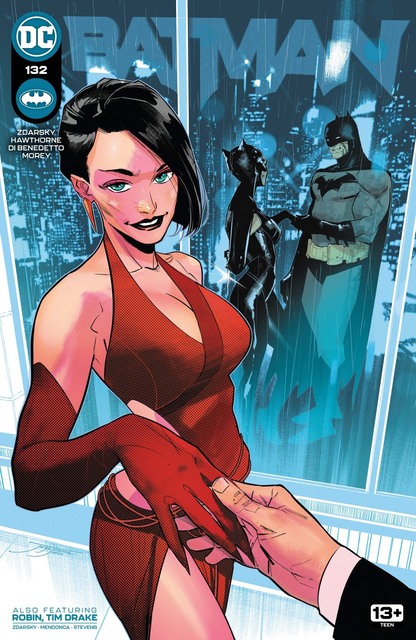 Last month's issue of BATMAN kicked off a new arc and had us readers asking many questions.
"Where is Bruce?"
"When is Bruce?"
"Does anyone recognize him?"
"Is a skeleton really talking?"
Some of those questions are answered in this week's BATMAN #132. Bruce continues to discover this unfamiliar Gotham City, and only with a new ally (Jewel) as his guide. Stripped down to his core, he navigates at street level, asking the right questions, and devises a plan that will hopefully get him some answers.
All of this, as Bruce Wayne.
That's the fun I believe writer Chip Zdarsky is having with this arc. We're getting basic Batman, and showing what he can accomplish with so little. I do love a status quo version, equipped with gadgets, a Batmobile, a Batcave, and an Alfred, but this arc so far is keeping my interest by keeping us grounded and at eye level with our hero. Zdarsky is giving us just enough breadcrumbs to satisfy our cravings, and I'm hoping we'll start to see the bigger picture of this sorta Elseworlds story.
Art by Mike Hawthorne continues to be fun and fitting for this story. He has a comic book look with every image, with character outlines and golden-brown Gotham City scenery. That's a compliment too, mind you. The story keeps moving, and nothing with the art distracts us from the journey. Count me satisfied.
Overall, chapter two of this new arc still has my interest and leaves me with questions. It's okay I don't have all of the answers yet, and everything still feels like it's building. I can wait because Zdarsky has my attention.
And it looks like next month, the Dark Knight returns. He just may look a little different. – Ryan Lower