SYNOPSIS: Guillem March writes and draws a poignant and heartfelt tale of redemption in "Back to Year One."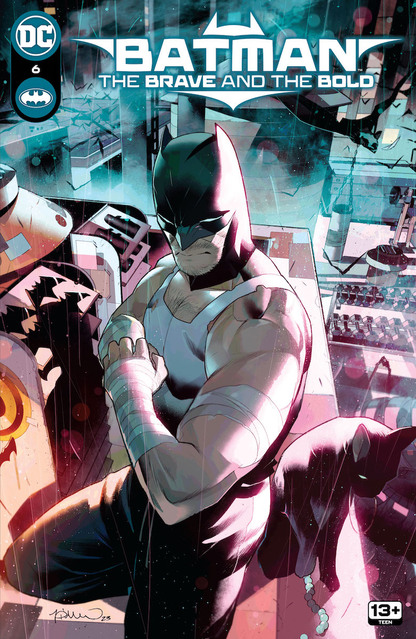 Sigh.
If you were waiting for the conclusion to "The Winning Card", well, prepare for some disappointment.
Artist Guillem March provides story, art, and letters on part 1 of what the actual issue bills as "Batman: Pygmalion".
For those unfamiliar, Pygmalion is a play written by George Bernard Shaw about a phonetics professor named Henry Higgins who makes a bet that he can train anyone to speak perfect English. Along comes Eliza Doolittle, a lower-class flower girl, whom Higgins trains to be "proper". Classic film lovers will remember that it was adapted in 1964 as My Fair Lady.
So, what does that have to do with Batman?
The conceit of the story is that Batman wakes up in unfamiliar environs, bandaged up, and with no idea of who he is. A young, bespeckled girl is at his bedside, tending to him, wearing a Robin tee-shirt. The room's walls are covered with newspaper clippings about The Batman. As it turns out, the girl, Aurora, is a big fan after Batman rescued her mom, a nurse, on the way home from the hospital one night.
Aurora nicknames Batman "Bryce" since it starts with the letter "B" and as Batman mends from his broken ribs and assorted injuries, Aurora tries to help Batman train and remember how to be Batman, at least from her perspective.
March intersperses flashes of his former life as Bryce tries to put the pieces together of what drives him. It's really fascinating seeing a Batman who is so free. He knows something dark is lurking in his psyche and that is what pushes him to perfection, but some of the angst is gone. It's fun seeing Batman remember who he is and March paces it out well, giving each revelation time to breathe.
I've long been a fan of his art style and he does not disappoint here. Quite a few images felt like homages to David Mazzucchelli's art from Batman: Year One and the homemade suit, cobbled together from Batman's own equipment that survived whatever adventure landed him at Aurora and Magdalena's fire escape, has this makeshift do-it-yourself look to it that harkens back to another origin tale, Batman: Zero Year. The closing splash page is sublime!
"The Performance", this issue's Batman: Black & White entry, was written by Sean Lewis with art by Javier Fernandez. Thespian Rupert Pint is performing a one-man play in which he promises to reveal all of Batman's secrets. Naturally, Bruce Wayne goes to attend. When Pint is seemingly murdered during the show, The Dark Knight Detective swiftly shows up to investigate, only to walk into a trap. The setup and twist is a lot of fun and could probably make for a good episode of Batman: The Animated Series. Fernandez stages the art well, with some dazzling action and two-page spreads. It may not be the most revolutionary story, but it's sure to entertain.
Despite my disappointment yet again that this title's opening Batman arc has yet to conclude, I enjoyed myself immensely with this issue. March is a top-tier talent, providing an enjoyable look at an amnesiac Bruce Wayne discovering how to rebuild Batman, but without knowing the reason why he should. It sheds a little light on the darkness of Gotham and highlights the essential traits that make him who he is, even if he doesn't recall why. With Catwoman entering the mix at the end, you know this tale is only going to get more interesting! I am hooked! – Javier E. Trujillo
GRADE: A