BATMAN: THE BRAVE AND THE BOLD is my favorite animated Batman TV series.
Really. I am NOT kidding.
When the show went off the air after three seasons back in 2011 (7 years ago, really?), I was SUPER-sad to see it go away.  This was an animated Batman series that I originally thought would be ridiculous – and it kinda is – and something I wouldn't like.
How WRONG I was.
BTBATB ended up being a HUGE love letter to this great character, as one hell of a Batman history lesson.
A few years ago at Comic Con International San Diego, I had the chance to interview Diedrich Bader – the voice of Batman in BTBATB – as well as series producer James Tucker.  I asked both of them if they'd like to do a BTBATB animated film someday, and both said, basically, "HELL YES!"
Finally – some 7 years later – it happened!
Better late than never, no?  And it was worth the wait, because…
SCOOBY DOO AND BATMAN: THE BRAVE AND THE BOLD is one of the BEST animated Batman films that's been produced.  That's not hyperbole – I'm serious.
Combine everything you love about Scooby Doo, and everything you love about Batman, and the outcome is this wonderful movie.   Here's the premise…
Batman and his team of detectives – Martian Manhunter, Plastic Man, Black Canary, Detective Chimp, The Question, and Aquaman (sorta – you'll see) – recruit Scooby Doo and the Gang to join the "Mystery Analysts of Gotham."  What is the MAG (for lack of a better anagram)?  Well, a team of super-sleuths headed by The Dark Knight himself.
Once Mystery, Inc. become members of MAG (and Batman made sure they were properly vetted and tested), they're asked to pick an unsolved case for the team to investigate and solve – one of which is the only case that The Batman never cracked.  Of course, the Gang picks Batman's unresolved investigation and The Dark Knight quickly shuts them down.  Before Batman has to explain why this case is off-limits, MAG is alerted to a crime in progress and off they go to thwart it.
Raise your hand if you think this "crime in progress" is going to end up having something to do with Batman's one unsolved case.
From there, the story gives us a plethora of famous and obscure Batman villains (including Catwoman, c. 1969), as well as what can best be described as "Classic Scooby Doo."  In fact, the latter reminds me of being a kid back in the early 1970s and watching SCOOBY DOO, WHERE ARE YOU! on Saturday mornings.
As far as the animation, it's pretty darn good.  I'd say it's a tad better than what you'd get with an episode of BATMAN: THE BRAVE AND THE BOLD.
SCOOBY DOO AND BATMAN: THE BRAVE AND THE BOLD is an action-packed and FUN ride.  Yes, the premise of Batman teaming up with Scooby Doo and the Gang seems preposterous on the surface. And honestly, it is just a little bit – but that's part of what makes it awesome.  If you've watched any episode of BATMAN: THE BRAVE AND THE BOLD, you know that despite how outlandish it seem at face value, it never once – NOT ONCE – made fun of Batman.  The same thing can be said about this new move.  Yes, it's a great conduit for our young folks into the world of Batman, but it's also a joy for old Batman – and Scooby Doo – fans such as yours truly.
I absolutely adore SCOOBY DOO AND BATMAN: THE BRAVE AND THE BOLD and I think you will too, Batman fans. – Bill "Jett" Ramey
GRADE: A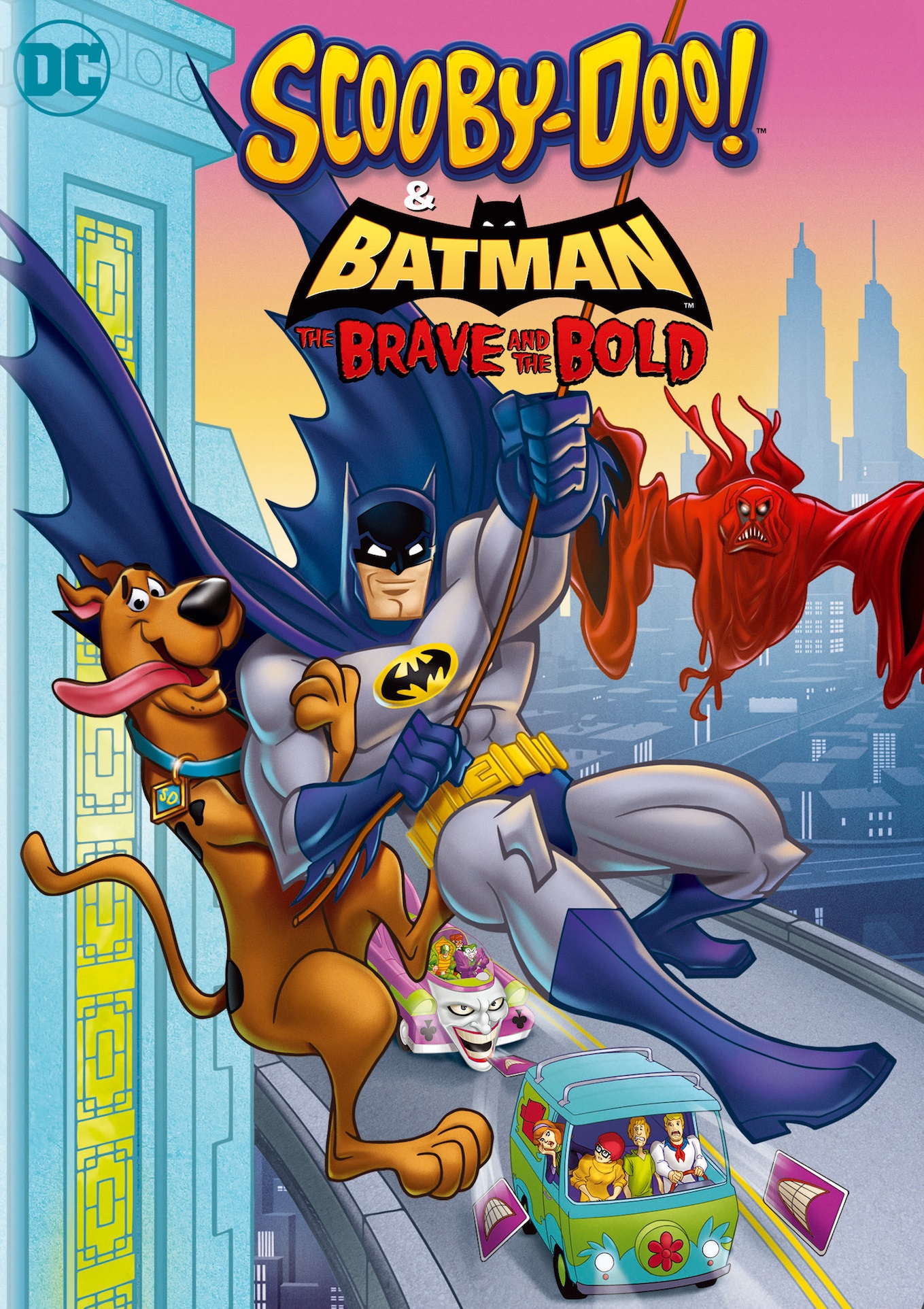 SCOOBY DOO! & BATMAN: THE BRAVE AND THE BOLD
 is directed by Jake Castorena. Paul Giacoppo wrote the teleplay, which is based on a story by supervising producer James Tucker. Michael Jelenic is producer on the film, with Sam Register, Benjamin Melniker, and Michael Uslan serving as executive producers.
The main voice cast includes Diedrich Bader as Batman, Frank Welker as Scooby-Doo and Fred, Grey Griffin as Daphne and Black Canary, Matthew Lillard as Shaggy, and Kate Micucci as Velma. The guest cast is comprised of Jeff Bennett as Joker, Jeffrey Combs as The Question, John DiMaggio as Aquaman, Nika Futterman as Catwoman, Nicholas Guest as Martian Manhunter, John Michael Higgins as The Riddler, Tom Kenny as Penguin and Plastic Man, Kevin Michael Richardson as Detective Chimp, Tara Strong as Harley Quinn and Poison Ivy, and Fred Tatasciore as Harvey Bullock.
[embedyt] https://www.youtube.com/watch?v=wlK17oqvMwo[/embedyt]