Hello BOF'ers as well as any non-BOF'er who might've stumbled upon this article…WELCOME!
I have been a Batman fan for as long as I remember, so I'm talking at least a half century at this point in my life.  Needless to say, I've witnessed a lot of Batmanning in my day.
I have seen Batman exist solely in comics, TV show reruns, and Saturday morning cartoons, to what the character is today: An American (and worldwide) cultural icon that exists in all sorts of mediums.
In honor of Batman's 80th anniversary, I thought it would be fun (for me at least) to write about some of my personal favorite Batman "things" in different mediums — film (animated and live-action), comics, TV, and more!
MOVIE THEME (LIVE-ACTION) – BATMAN '89
Truth be told, I'm a fan of all of the Batman themes from all the live-action movies.  But if I gotta pick one, I'll go with the Danny Elfman classic from BATMAN '89.
BATMAN VOICE ACTOR – OLAN SOULE (BATMAN WITH ROBIN THE BOY WONDER, SUPERFRIENDS)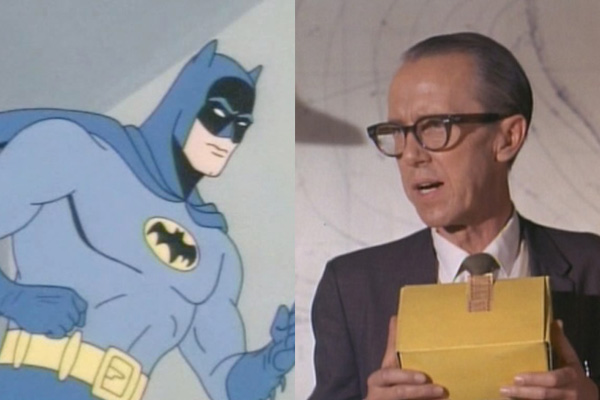 How 'bout that for an HBT (Hot Batman Take)?!
As someone who was a kid of the 70s, Olan Soule was "My Batman" — well, at least when it came to Batman's voice.
Soule provided the voice of The Caped Crusader on the very first animated Batman TV series, BATMAN WITH ROBIN THE BOY WONDER, SCOOBY DOO MEETS BATMAN, as well as the various incarnations of SUPERFRIENDS.
And lest we forget, Soule's Batman taught us how to cross the street on, um, SESAME STREET…
ANIMATED SERIES THEME – BATMAN: THE BRAVE AND THE BOLD
Try not to dance (like me) whenever you hear this!
BATMAN MOVIE MOMENT/SCENE – THE END OF THE DARK KNIGHT RISES (2012)
Man, SO many to pick from that I love.
I didn't allow myself to cheat on this one, so I simply went with my heart.  To this day, my eyes get a little misty and a lump in my throat whenever I watch the end of RISES.
So, what are you're favorites of these 4 categories?  Post 'em in the comments section below!
And be sure to check out each part of the "These Are a Few of My Favorite (Batman) Things" series on BOF! – Bill "Jett" Ramey