SYNOPSIS: The brutal, bloody conclusion to the year's most acclaimed title is here. Slam Bradley has never feared walking the hard path alone, but even his courage will be tested by the shocking turn of events that will take Gotham City down a dark, violent path.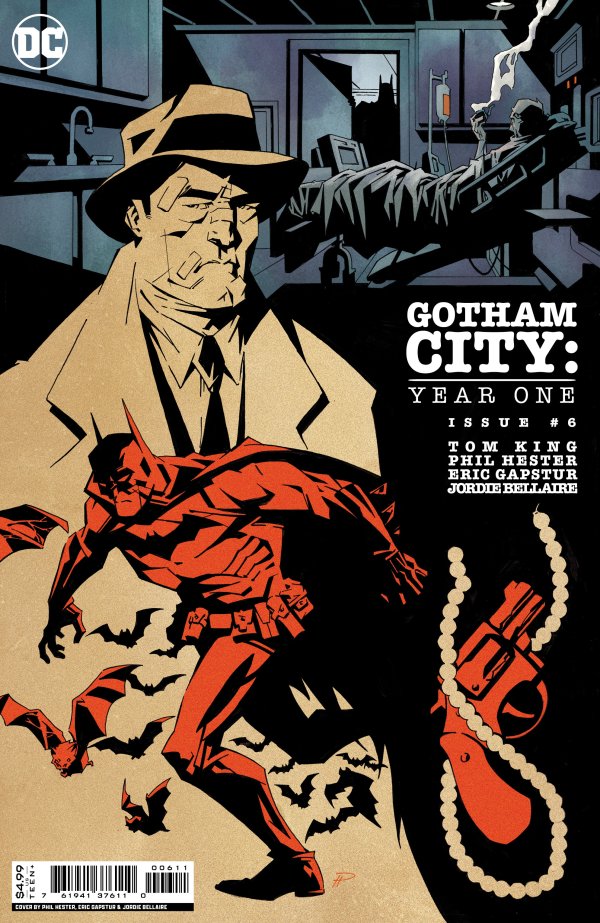 Last call, folks.
In the wake of the murder of Gotham's Little Princess, the town is burning, ripped asunder by years of silenced class inequality and unrest.
Caught in the middle in more ways than one is Slam Bradley. King and Hester lay the story out brilliantly, juxtaposing the city's chaos as riots break out with Slam in a fistfight with Carter on the footsteps of Wayne Manor. King emphasizes the duality with narration from Slam, detailing how he lives between two worlds.
Before long, Slam confronts Richard and Constance Wayne as we reach the denouement, with all the nasty secrets laid bare.
We've already seen the seedy underbelly of this generation of Waynes, but it gets a lot worse as new revelations may change how you look at the family, Gotham, and the future Bat Cave irrevocably.
The question is-do these secrets really matter? Gotham is still Gotham. Batman is still Batman, no matter what his grandparents did. One may hope that King connects some more dots, and makes clear on the innuendos, but in the end, that's not the point of the story. This is a deathbed confession, spinning a yarn for posterity's sake. As h tells the Dark Knight, "Doesn't mean anything."
Everyone who worked on this series has contributed to a tour de force. This series has had a consistently high-quality thanks to the writing of King, the pencils of Hester, the inks by Gapstur, the colors of Bellaire, and the letters of Cowles. This is a dream team for this type of noir.
I probably haven't praised the color enough. Stark when it needs to be, bold in other moments, the mood is perfectly set by the visuals, snapping you to attention when it's most needed. I've mentioned Darwyn Cooke's Parker adaptations in past reviews and there's a splash page here that so perfectly captures that vibe that I just reveled in.  A perfect page.
When it comes to hard-as-nails tough-guy detective stories, King and Co. have crafted one that definitely belongs on your bookshelf. It's early, but I can definitely see this standing the test of time, a perfect companion to Batman: Year One. I would welcome any return to Slam Bradley by this team. I could go on and on about this book's greatness, but I don't want to spoil anything. Just make sure you grab all six issues, turn off your phone, pour yourself a whisky, and enjoy a perfectly told yarn in the world of Gotham. Trust me.  – Javier E. Trujillo
GRADE: A+