Welcome to the first 2019 edition of "Scattershooting with Jett" in which I pontificate my random thoughts and opinions unsolicited.  Let's let get 'er started!
1) I have a HUGE amount of respect for a particular gentleman in the entertainment biz that I shall not name out of, well, respect.
With that said, this dude needs to LET IT GO.
It didn't happen and it isn't going to happen.  Thus, to continue to release images of "what might've been" is a futile endeavor which, frankly, only makes things worse in the DC on film fan community…especially a very specific subgroup.
Move on brother and give us something really awesome in the near future…
2) Josh Gad is trolling, campaigning for a job, or both…
3) More on AQUAMAN's box office in a bit, but its success in that regard shows that team-up event films ala JUSTICE LEAGUE are not needed.  Here's to many more solo, standalone DC movies made in the AQUAMAN way…
4) To piggyback off of scattershot #3, you can't have a shared cinematic universe and be filmmaker-driven.  I've enjoyed most of the MCU movies, but they are studio/producer-driven, bottom line.  Give me a movie helmed by a strong filmmaker over one made in the MCU mode anytime.  Yes, you may end up with a BATMAN RETURNS or a BATMAN v SUPERMAN from time to time, but I'll still champion the director-led approach even if I don't like the end product…
5) The idea that Batman on film is no longer needed is pure poppycock.  The idea that success of AQUAMAN means Warner Bros. should shelve Batman movies is also nonsense.  What the success of AQUAMAN (and I'll throw in WONDER WOMAN as well) means is that a Batman film doesn't need to be rushed (so relax and chill out Batman fans) and Batman doesn't have to be DC on film's savior…
6) I've grown to despise BATMAN v SUPERMAN more than BATMAN RETURNS…
7) The details of AQUAMAN's box office fascinate me.
Overseas, it's a box office juggernaut; domestically it is not.  Over 70% of AQUAMAN's total box office comes from overseas which is 6+ percentage points higher in that category than any other "DCEU" (ugh!) movie.
Furthermore, while it's doing well domestically, it's likely going to end up ranked #4 amongst "DCEU" (ugh!) movies — right there with MAN OF STEEL (which was considered a "disappointment") and SUICIDE SQUAD.  Check this out (via BOXOFFICEMOJO.COM)…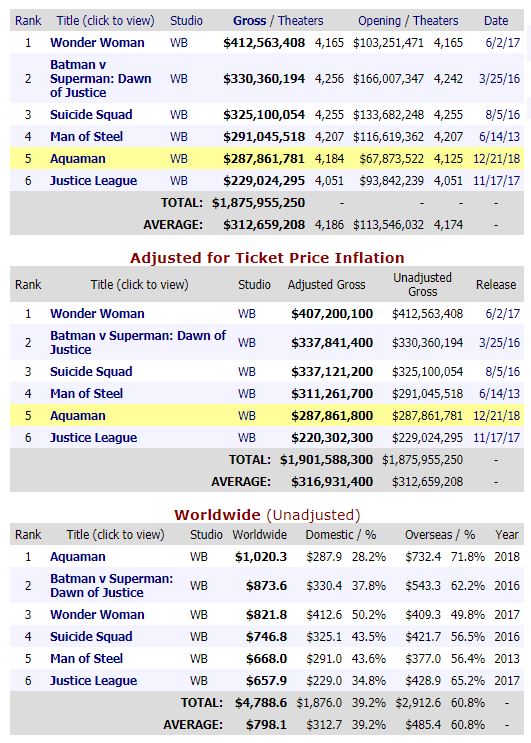 It's fair to argue that the international box office saved this film from the same fate as MAN OF STEEL.  Ironically, MOS and AQM received the same "A-" CinemaScore, which indicates that audiences thought both were "good."
So, what made AQM more appealing to the international audience (especially China) as opposed to MOS and the other "DCEU" (ugh!) movies?  I ask this legitimately, so please, post your take in the comments section below…
8) To expound on scattershot #5, Batman movies, domestically, own 8 spots out of the top 20 (not counting BATMAN v SUPERMAN, FYI) when it comes to the total box office (actuals and adjusted for ticket inflation) for all DC films to date.  In fact, they sit in the top 3 and own five out of the top 10 spots — BATMAN, THE DARK KNIGHT, and THE DARK KNIGHT RISES — adjusted for ticket price inflation because I like to compare apples to apples (via BOXOFFICEMOJO.COM).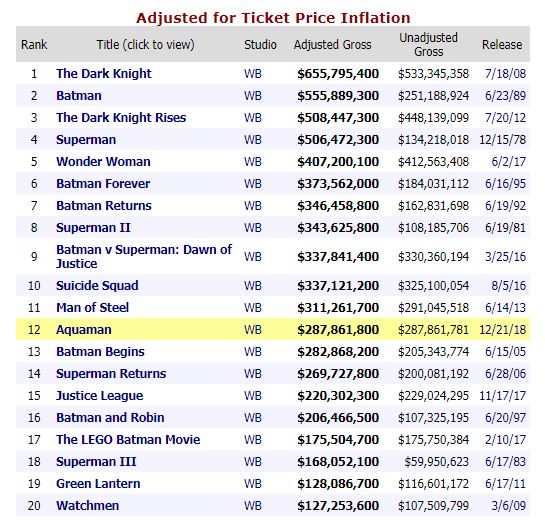 (FYI: AQM is highlighted because it's still in theaters and the box office results are not final.)
What Batman on films needs is a bit of a break in order to build up anticipation and, frankly, allow the audience to miss him.  A 2021 release date seems reasonable as it would be 9 years after the last true solo Batman film — THE DARK KNIGHT RISES — and 4 years removed from the character's last live-action onscreen appearance in JUSTICE LEAGUE (which very few people saw or cared about).
9) In the age of MCU movies such as BLACK PANTHER, as well as the DC films AQUAMAN and WONDER WOMAN, one might argue that Batman has become old, tired, and insignificant.  To some, that may be true, but I disagree.
This year — 2019 — we are celebrating the 80th anniversary of Batman and that's a pretty big deal as it proves that the character is timeless, malleable, and beloved.   Folks should keep that in mind before shoveling dirt on the old boy cinematically.
10) Don't forget, BOF's watch party for SHAZAM! will take place on Saturday, April 6, 2019, in the great city of Austin, Texas.  CLICK HERE for details and we hope to see you there! – Bill "Jett" Ramey